Enterprise Social
Knowledge Network
Connect

ORG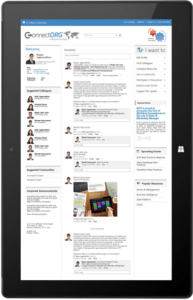 ConnectORG by KL Software Technologies (KLST) is an Enterprise Social networking platform built on Microsoft SharePoint that connects employees to Community, projects, ideas, Knowledge and resources to get work done at one place.
ConnectORG with its unique communication and collaboration capabilities helps expose who in the organization has hidden expertise, who is contributing the most and who other people go to for answers (experts).
 Search Colleagues
 Explore "LinkedIn" style Profile
 Track "Twitter" style Activities
 Organized "Facebook" Style Timeline
 Build Social Knowledge Network
Power of Enterprise Social Network
Built-in search functionality helps you to find people and provide better access which helps to collaborate effectively across departments, locations and time zones. Get an in-depth view of business employee profile which helps to identify key individuals in your organization with right expertise. Keep your discussions/posts/activities organized in one place and protected so you can stay on top of what's happening.
Key Benefits
 Access Company Resources, Share Files, Create Notes & Make your content social

Higher Employee Engagement

Better Knowledge Sharing – Leads to Innovation

More Productivity – Better Access to People & Information Connected Enterprise

Make the most of the People and Technical Investments
What more ConnectORG can do for your organization?
ConnectORG addresses the information overload at workplace by integrating with business critical applications such as ERP/CRM/Microsoft SharePoint and provide a seamless view of what's happening in and around the enterprise which enables enterprise team to be more focused, effective and productive.
Enterprise social networking with ConnectORG, content collaboration and management with SharePoint, Office productivity with Office 365 all combine to create new integrated experiences that help enterprise people get things done more effectively.
"A worldwide leader in delivering risk and insurance services and solutions uses ConnectORG for building a global Knowledge Network"
"KLST's agile approach helps customers turn innovative ideas quickly into measurable business outcomes. For example we recently implemented within just 4-weeks the first pilot release of a fully responsive mobile-ready "Social Firm Directory" site, built on SharePoint Online and deployed on Microsoft Office 365, for this Fortune 100 premier global professional services firm specializing in risk, strategy and human capital solutions that instantly connected over 50,000+ global employees"